Nanotheranostics 2021; 5(2):166-181. doi:10.7150/ntno.56015 This issue
Research Paper
Non-invasive multimodal imaging of Diabetic Retinopathy: A survey on treatment methods and Nanotheranostics
1. Divyadrishti Imaging Laboratory, Department of Physics, Indian Institute of Technology Roorkee, Roorkee, Uttarakhand-247667, India.
2. Nanobiotechnology Laboratory, Department of Biotechnology, Indian Institute of Technology Roorkee, Roorkee, Uttarakhand-247667, India.
3. Department of clinical physiology, Lund University, Skåne University Hospital, Skåne, Sweden.

This is an open access article distributed under the terms of the Creative Commons Attribution License (https://creativecommons.org/licenses/by/4.0/). See http://ivyspring.com/terms for full terms and conditions.
Citation:
Sadasivam R, Packirisamy G, Shakya S, Goswami M. Non-invasive multimodal imaging of Diabetic Retinopathy: A survey on treatment methods and Nanotheranostics.
Nanotheranostics
2021; 5(2):166-181. doi:10.7150/ntno.56015. Available from
https://www.ntno.org/v05p0166.htm
Abstract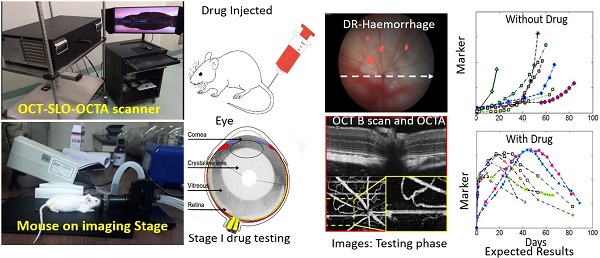 Diabetes Retinopathy (DR) is one of the most prominent microvascular complications of diabetes. It is one of the pre-eminent causes for vision impairment followed by blindness among the working-age population worldwide. The de facto cause for DR remains challenging, despite several efforts made to unveil the mechanism underlying the pathology of DR. There is quite less availability of the low cost pre-emptive theranostic imaging tools in terms of in-depth resolution, due to the multiple factors involved in the etiology of DR. This review work comprehensively explores the various reports and research works on all perspectives of diabetic retinopathy (DR), and its mechanism. It also discusses various advanced non-destructive imaging modalities, current, and future treatment approaches. Further, the application of various nanoparticle-based drug delivery strategies used for the treatment of DR are also discussed. In a nutshell, the present review work bolsters the pursuit of the development of an advanced non-invasive optical imaging modal with a nano-theranostic approach for the future diagnosis and treatment of DR and its associated ocular complications.
Keywords: diabetic retinopathy, imaging biomarkers, treatment, drugs and nano-theranostics