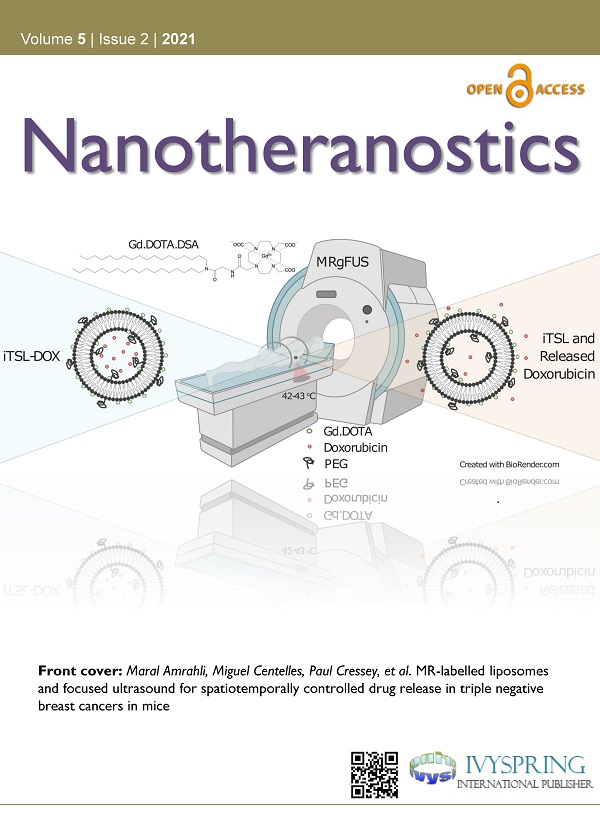 Nanotheranostics, the sister journal of Theranostics, is a multidisciplinary and fully open access journal. Currently, the journal does not charge any publication or submission fees (Platinum open access). Nanotheranostics publishes innovative and original basic, translational and clinical research reflecting the fields of nanomedicine, nanoimaging, drug and gene delivery, nanoelectronic biosensors, and other areas.
Regular features include high quality research articles, reviews or mini-reviews, rapid communication of preliminary data on innovative research, editorials, and letters to the editor. Educational articles on basic sciences, fundamental aspects and controversy related to pre-clinical and clinical studies or ethical issues of nanomedicine are also welcome. Timely reviews that provide updates on current applications and issues in nanomedicine and translational aspects of nanotheranostics and other topics are particularly welcome and will be given high priority.
Nanotheranostics employs a rigorous peer-review system, but also strives for rapid review turnaround times and is based on the same streamlined submission platform as Theranostics.
Recent Papers:
---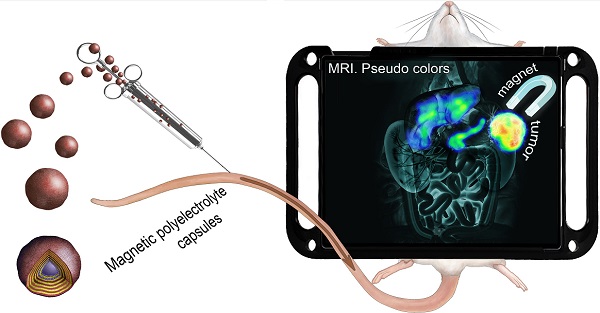 Research Paper
Biodegradable polyelectrolyte/magnetite capsules for MR imaging and magnetic targeting of tumors
Yulia Svenskaya, Francesca Garello, Ekaterina Lengert, Anastasiia Kozlova, Roman Verkhovskii, Valeria Bitonto, Maria Rosaria Ruggiero, Sergey German, Dmitry Gorin, Enzo Terreno
Nanotheranostics 2021; 5(3): 362-377. doi:10.7150/ntno.59458
[Abstract] [Full text] [PDF] [PubMed] [PMC]
---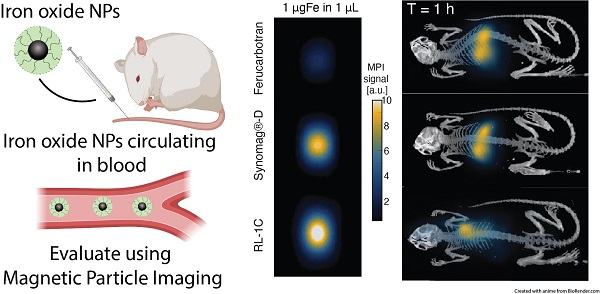 Research Paper
Long circulating tracer tailored for magnetic particle imaging
Sitong Liu, Andreina Chiu-Lam, Angelie Rivera-Rodriguez, Ryan DeGroff, Shehaab Savliwala, Nicole Sarna, Carlos M. Rinaldi-Ramos
Nanotheranostics 2021; 5(3): 348-361. doi:10.7150/ntno.58548
[Abstract] [Full text] [PDF] [PubMed] [PMC]
---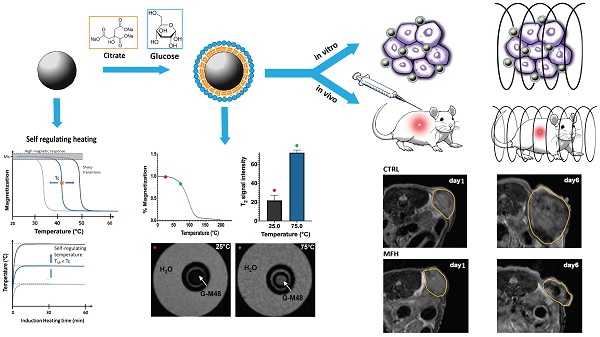 Research Paper
Nanoparticles exhibiting self-regulating temperature as innovative agents for Magnetic Fluid Hyperthermia
Marco Gerosa, Marco Dal Grande, Alice Busato, Federica Vurro, Barbara Cisterna, Enrico Forlin, Filippo Gherlinzoni, Giovanni Morana, Michele Gottardi, Paolo Matteazzi, Adolfo Speghini, Pasquina Marzola
Nanotheranostics 2021; 5(3): 333-347. doi:10.7150/ntno.55695
[Abstract] [Full text] [PDF] [PubMed] [PMC]
---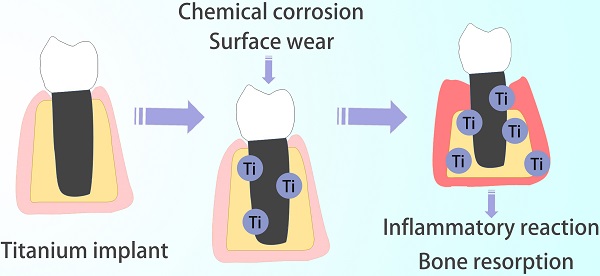 Review
The unfavorable role of titanium particles released from dental implants
Zilan Zhou, Quan Shi, Jie Wang, Xiaohang Chen, Yujia Hao, Yuan Zhang, Xing Wang
Nanotheranostics 2021; 5(3): 321-332. doi:10.7150/ntno.56401
[Abstract] [Full text] [PDF] [PubMed] [PMC]
---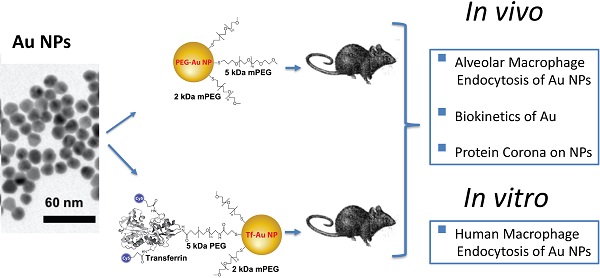 Research Paper
Pulmonary fate and consequences of transferrin-functionalized gold nanoparticles
Nagarjun Venkata Konduru, Karen Velasco-Alzate, Sitaramaraju Adduri, Kyryl Zagorovsky, Daysi Diaz-Diestra, Faisalina Fisol, Marcelo Sanches, Harrison Ndetan, Joseph David Brain, Ramon Morales Molina
Nanotheranostics 2021; 5(3): 309-320. doi:10.7150/ntno.47734
[Abstract] [Full text] [PDF] [PubMed] [PMC]
---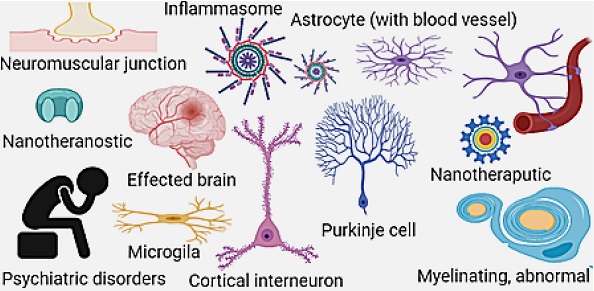 Review
Review of nanotheranostics for molecular mechanisms underlying psychiatric disorders and commensurate nanotherapeutics for neuropsychiatry: The mind knockout
Rajiv Kumar, Bhupender S Chhikara, Kiran Gulia, Mitrabasu Chhillar
Nanotheranostics 2021; 5(3): 288-308. doi:10.7150/ntno.49619
[Abstract] [Full text] [PDF] [PubMed] [PMC]
---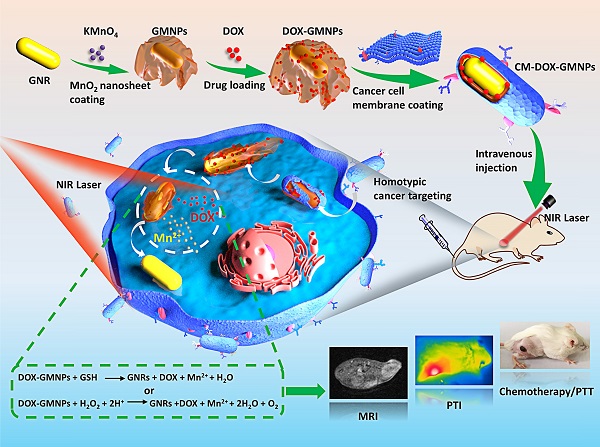 Research Paper
Cell membrane coated smart two-dimensional supraparticle for in vivo homotypic cancer targeting and enhanced combinational theranostics
Di Zhang, Zhongju Ye, Hua Liu, Xin Wang, Jianhao Hua, Yunyun Ling, Lin Wei, Yunsheng Xia, Shaokai Sun, Lehui Xiao
Nanotheranostics 2021; 5(3): 275-287. doi:10.7150/ntno.57657
[Abstract] [Full text] [PDF] [PubMed] [PMC]
---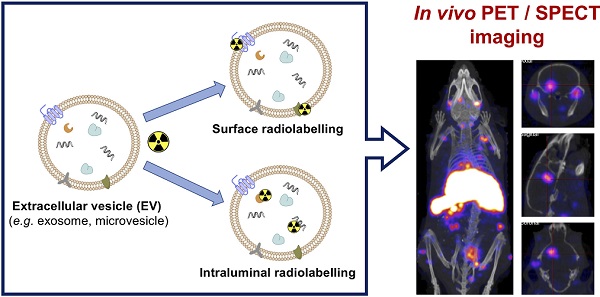 Review
Radiolabelling of Extracellular Vesicles for PET and SPECT imaging
Azalea A. Khan, Rafael T. M. de Rosales
Nanotheranostics 2021; 5(3): 256-274. doi:10.7150/ntno.51676
[Abstract] [Full text] [PDF] [PubMed] [PMC]
---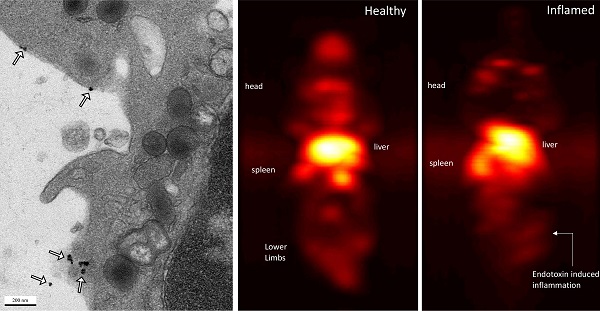 Research Paper
Non-radioactive and sensitive tracking of neutrophils towards inflammation using antibody functionalized magnetic particle imaging tracers
Prashant Chandrasekharan, K.L. Barry Fung, Xinyi Y. Zhou, Weiwen Cui, Caylin Colson, David Mai, Kenneth Jeffris, Quincy Huynh, Chinmoy Saayujya, Leyla Kabuli, Benjamin Fellows, Yao Lu, Elaine Yu, Zhi Wei Tay, Bo Zheng, Lawrence Fong, Steven M. Conolly
Nanotheranostics 2021; 5(2): 240-255. doi:10.7150/ntno.50721
[Abstract] [Full text] [PDF] [PubMed] [PMC]
---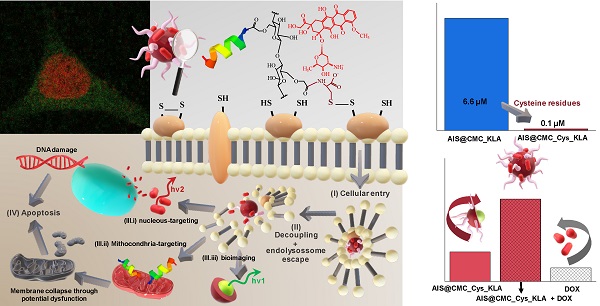 Research Paper
Nanotheranostics through Mitochondria-targeted Delivery with Fluorescent Peptidomimetic Nanohybrids for Apoptosis Induction of Brain Cancer Cells
Isadora C. Carvalho, Alexandra A. P. Mansur, Sandhra M. Carvalho, Herman S. Mansur
Nanotheranostics 2021; 5(2): 213-239. doi:10.7150/ntno.54491
[Abstract] [Full text] [PDF] [PubMed] [PMC]
---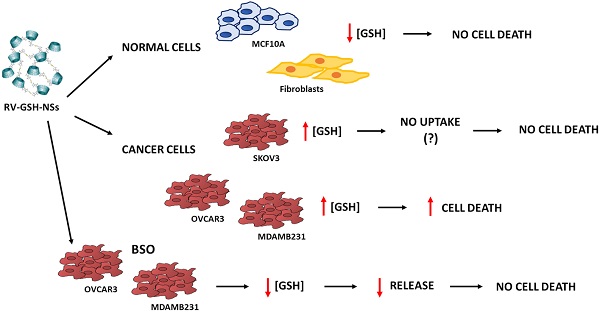 Research Paper
Cyclodextrin nanosponge for the GSH-mediated delivery of Resveratrol in human cancer cells
Marco Palminteri, Nilesh Kumar Dhakar, Alessandra Ferraresi, Fabrizio Caldera, Chiara Vidoni, Francesco Trotta, Ciro Isidoro
Nanotheranostics 2021; 5(2): 197-212. doi:10.7150/ntno.53888
[Abstract] [Full text] [PDF] [PubMed] [PMC]
---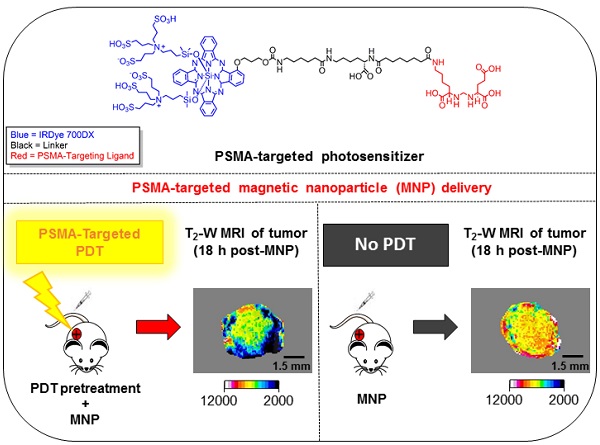 Research Paper
Prostate-specific membrane antigen (PSMA)-targeted photodynamic therapy enhances the delivery of PSMA-targeted magnetic nanoparticles to PSMA-expressing prostate tumors
Ethel J. Ngen, Ying Chen, Babak Behnam Azad, Srikanth Boinapally, Desmond Jacob, Ala Lisok, Chentian Shen, Mir S. Hossain, Jiefu Jin, Zaver M. Bhujwalla, Martin G. Pomper, Sangeeta R. Banerjee
Nanotheranostics 2021; 5(2): 182-196. doi:10.7150/ntno.52361
[Abstract] [Full text] [PDF] [PubMed] [PMC]
---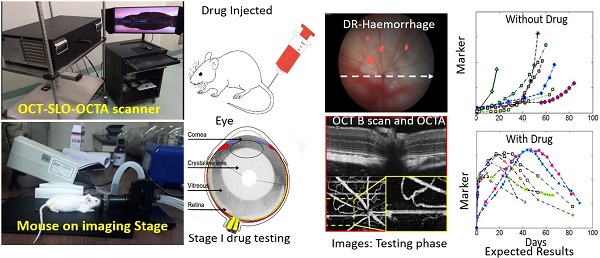 Research Paper
Non-invasive multimodal imaging of Diabetic Retinopathy: A survey on treatment methods and Nanotheranostics
Rajkumar Sadasivam, Gopinath Packirisamy, Snehlata Shakya, Mayank Goswami
Nanotheranostics 2021; 5(2): 166-181. doi:10.7150/ntno.56015
[Abstract] [Full text] [PDF] [PubMed] [PMC]
---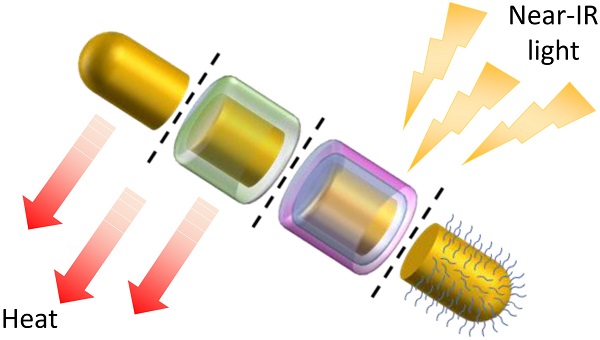 Review
Strategies for the functionalisation of gold nanorods to reduce toxicity and aid clinical translation
Xin Shi, Hannah L. Perry, James D. E. T. Wilton-Ely
Nanotheranostics 2021; 5(2): 155-165. doi:10.7150/ntno.56432
[Abstract] [Full text] [PDF] [PubMed] [PMC]
---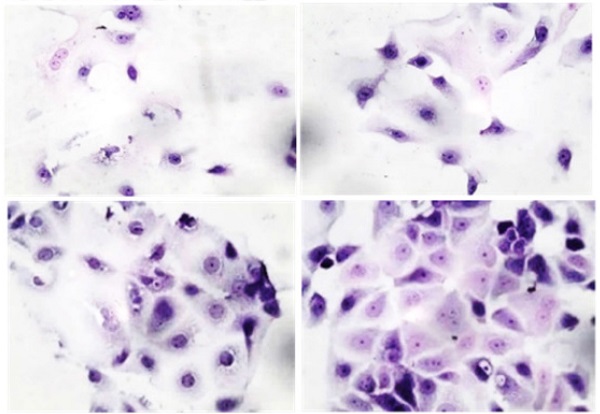 Research Paper
Resveratrol and its Nanoparticle suppress Doxorubicin/Docetaxel-resistant anaplastic Thyroid Cancer Cells in vitro and in vivo
Le Xiong, Xiao-Min Lin, Jun-Hua Nie, Hai-Shan Ye, Jia Liu
Nanotheranostics 2021; 5(2): 143-154. doi:10.7150/ntno.53844
[Abstract] [Full text] [PDF] [PubMed] [PMC]
---

Research Paper
MR-labelled liposomes and focused ultrasound for spatiotemporally controlled drug release in triple negative breast cancers in mice
Maral Amrahli, Miguel Centelles, Paul Cressey, Martynas Prusevicius, Wladyslaw Gedroyc, Xiao Yun Xu, Po-Wah So, Michael Wright, Maya Thanou
Nanotheranostics 2021; 5(2): 125-142. doi:10.7150/ntno.52168
[Abstract] [Full text] [PDF] [PubMed] [PMC]
Editor-in-Chief:
Jonathan Lovell, PhD
Associate Professor, Biomedical Engineering
University at Buffalo, State University of New York


Nanotheranostics is now indexed in the Web of Science, Biological Abstracts and BIOSIS Previews.
Nanotheranostics has been selected by The Literature Selection Technical Review Committee (LSTRC) for inclusion in MEDLINE, the prestigious index of U.S. National Library of Medicine.

CFP - Special Issue Dedicated to Dr. Kircher and Dr. Gambhir
Stem cell transplants are an effective approach to repair large bone defects. However, comprehensive techniques to monitor the fate of transplanted stem cells in vivo are lacking. Such strategies would enable corrective interventions at an early stage and greatly benefit the development of more successful tissue regeneration approaches. In this study, we designed and synthesized a dual-modality imaging probe (Feru-AFC) that can simultaneously localize transplanted stem cells and diagnose immune rejection-induced apoptosis at an early stage in vivo. ...
Endoscopy is the gold standard investigation in the diagnosis of gastrointestinal cancers and the management of early and pre-malignant lesions either by resection or ablation. Recently gold nanoparticles have shown promise in cancer diagnosis and therapeutics (theranostics). The combination of multifunctional gold nanoparticles with near infrared fluorescence endoscopy for accurate mapping of early or pre-malignant lesions can potentially enhance diagnostic efficiency while precisely directing endoscopic near infrared photothermal therapy for established cancers. ...
Squalenoylation of gemcitabine, a front-line therapy for pancreatic cancer, allows for improved cellular-level and system-wide drug delivery. The established methods to conjugate squalene to gemcitabine and to form nanoparticles (NPs) with the squalenoylated gemcitabine (SqGem) conjugate are cumbersome, time-consuming and can be difficult to reliably replicate. Further, the creation of multi-functional SqGem-based NP theranostics would facilitate characterization of in vivo pharmacokinetics and efficacy. More ...
Anticancer nanotherapeutics have shown mixed results in clinical trials, raising the questions of whether imaging should be used to i) identify patients with a higher likelihood of nanoparticle accumulation, ii) assess nanotherapeutic efficacy before traditional measures show response, and iii) guide adjuvant treatments to enhance therapeutic nanoparticle (TNP) delivery. Here we review the use of a clinically approved MRI nanoparticle (ferumoxytol, FMX) to predict TNP delivery and efficacy. It is becoming increasingly apparent that nanoparticles used for imaging, despite clearly distinct physicochemical properties, often co-localize with TNP in tumors. This evidence offers the possibility of using FMX as a generic "companion diagnostic" nanoparticle for multiple TNP formulations, thus potentially allowing many of the complex regulatory and cost challenges of other approaches to be avoided. More ...
Congratulations to Dr. Chen for being elected as AIMBE fellow: https://aimbe.org/college-of-fellows/cof-2103/
Congratulations to Dr. Chen for being recognized as Selected Highly Prolific Authors (most published articles in the past 5 years) for 3 ACS journals (ACS Nano, Bioconjugate Chemistry, and Molecular Pharmaceutics). More details: http://journalstars.acs.org/