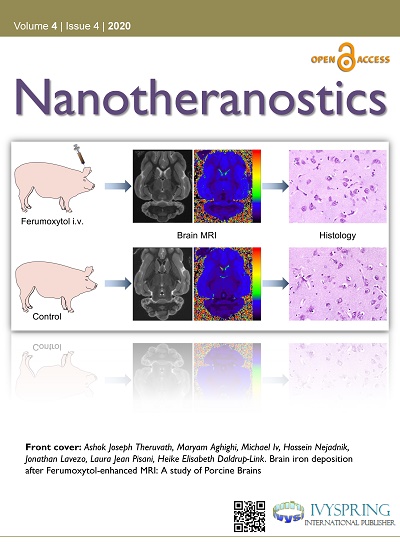 Nanotheranostics, the sister journal of Theranostics, is a multidisciplinary and fully open access journal. Currently, the journal does not charge any publication or submission fees (Platinum open access). Nanotheranostics publishes innovative and original basic, translational and clinical research reflecting the fields of nanomedicine, nanoimaging, drug and gene delivery, nanoelectronic biosensors, and other areas.
Regular features include high quality research articles, reviews or mini-reviews, rapid communication of preliminary data on innovative research, editorials, and letters to the editor. Educational articles on basic sciences, fundamental aspects and controversy related to pre-clinical and clinical studies or ethical issues of nanomedicine are also welcome. Timely reviews that provide updates on current applications and issues in nanomedicine and translational aspects of nanotheranostics and other topics are particularly welcome and will be given high priority.
Nanotheranostics employs a rigorous peer-review system, but also strives for rapid review turnaround times and is based on the same streamlined submission platform as Theranostics.
Recent Papers:
---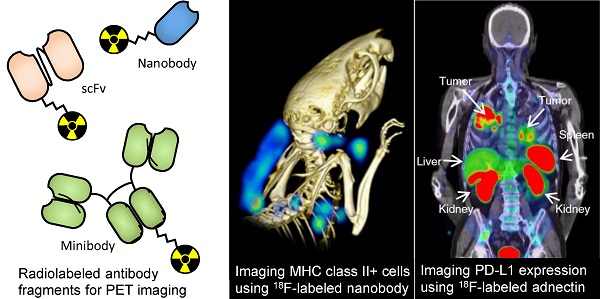 Review
Noninvasive Imaging of Cancer Immunotherapy
Omar Abousaway, Taha Rakhshandehroo, Annick D. Van den Abbeele, Moritz F. Kircher, Mohammad Rashidian
Nanotheranostics 2021; 5(1): 90-112. doi:10.7150/ntno.50860
[Abstract] [Full text] [PDF]
---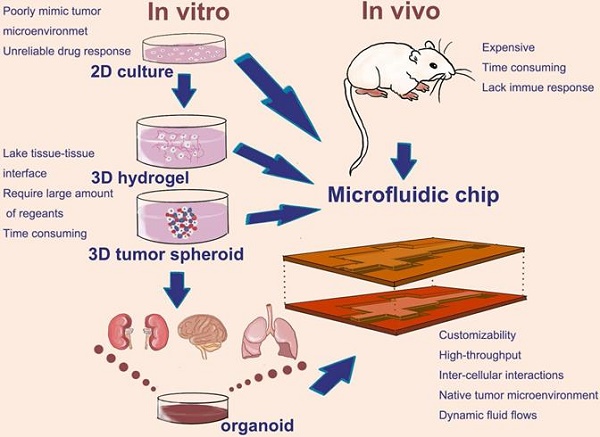 Review
Multifunctional microfluidic chip for cancer diagnosis and treatment
Qiao-ru Guo, Ling-ling Zhang, Ji-fang Liu, Zhen Li, Jia-jun Li, Wen-min Zhou, Hui Wang, Jing-quan Li, Da-yu Liu, Xi-yong Yu, Jian-ye Zhang
Nanotheranostics 2021; 5(1): 73-89. doi:10.7150/ntno.49614
[Abstract] [Full text] [PDF]
---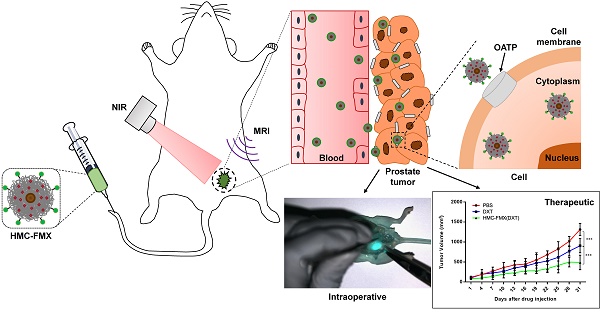 Research Paper
Intraoperative assessment and postsurgical treatment of prostate cancer tumors using tumor-targeted nanoprobes
James Teh, Manisha Tripathi, Derek Reichel, Bien Sagong, Ricardo Montoya, Yi Zhang, Shawn Wagner, Rola Saouaf, Leland W. K. Chung, J. Manuel Perez
Nanotheranostics 2021; 5(1): 57-72. doi:10.7150/ntno.50095
[Abstract] [Full text] [PDF]
---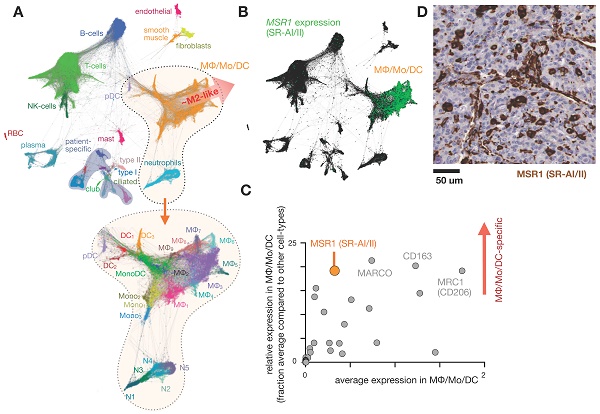 Research Paper
Macrophage imaging and subset analysis using single-cell RNA sequencing
Sean Arlauckas, Nuri Oh, Ran Li, Ralph Weissleder, Miles A. Miller
Nanotheranostics 2021; 5(1): 36-56. doi:10.7150/ntno.50185
[Abstract] [Full text] [PDF]
---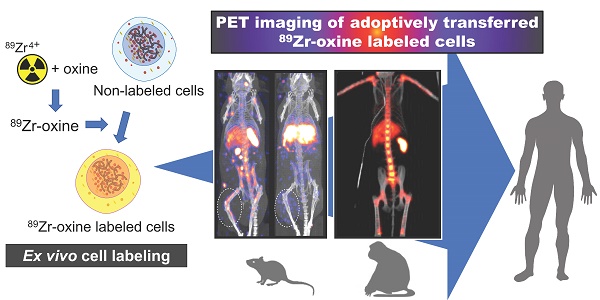 Review
Imaging of cell-based therapy using 89Zr-oxine ex vivo cell labeling for positron emission tomography
Yutaka Kurebayashi, Peter L. Choyke, Noriko Sato
Nanotheranostics 2021; 5(1): 27-35. doi:10.7150/ntno.51391
[Abstract] [Full text] [PDF]
---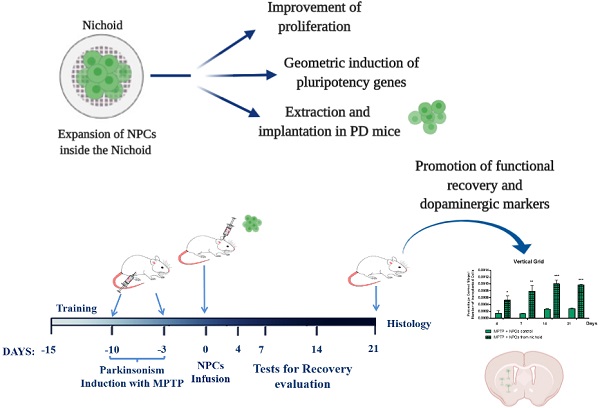 Research Paper
Neural precursors cells expanded in a 3D micro-engineered niche present enhanced therapeutic efficacy in vivo
Stephana Carelli, Toniella Giallongo, Federica Rey, Bianca Barzaghini, Tommaso Zandrini, Andrea Pulcinelli, Riccardo Nardomarino, Giulio Cerullo, Roberto Osellame, Cristina Cereda, Gian Vincenzo Zuccotti, Manuela Teresa Raimondi
Nanotheranostics 2021; 5(1): 8-26. doi:10.7150/ntno.50633
[Abstract] [Full text] [PDF]
---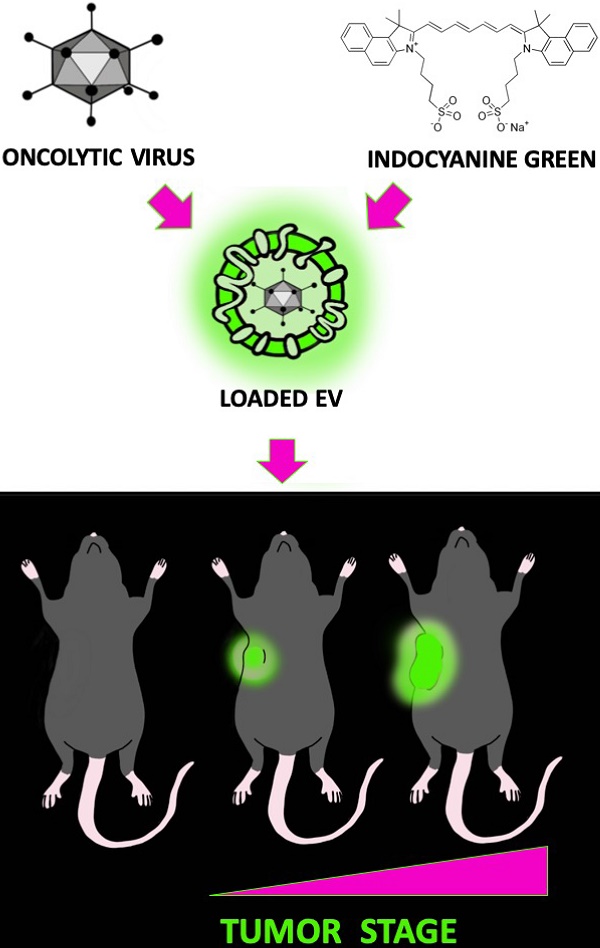 Research Paper
Cancer-derived EVs show tropism for tissues at early stage of neoplastic transformation
Mariangela Garofalo, Alessandro Villa, Electra Brunialti, Daniela Crescenti, Giulia Dell'Omo, Lukasz Kuryk, Andrea Vingiani, Vincenzo Mazzaferro, Paolo Ciana
Nanotheranostics 2021; 5(1): 1-7. doi:10.7150/ntno.47226
[Abstract] [Full text] [PDF]
---
Research Paper
The effect of ultrasound pulse length on microbubble cavitation induced antibody accumulation and distribution in a mouse model of breast cancer
Marie Amate, Joseph Goldgewicht, Balasubramanian Sellamuthu, John Stagg, Francois T.H. Yu
Nanotheranostics 2020; 4(4): 256-269. doi:10.7150/ntno.46892
[Abstract] [Full text] [PDF] [PubMed] [PMC]
---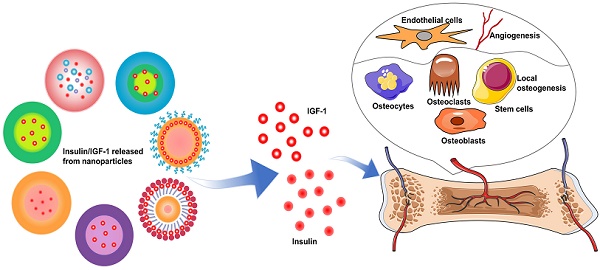 Review
Local delivery of insulin/IGF-1 for bone regeneration: carriers, strategies, and effects
Xiaoxuan Zhang, Helin Xing, Feng Qi, Hongchen Liu, Lizeng Gao, Xing Wang
Nanotheranostics 2020; 4(4): 242-255. doi:10.7150/ntno.46408
[Abstract] [Full text] [PDF] [PubMed] [PMC]
---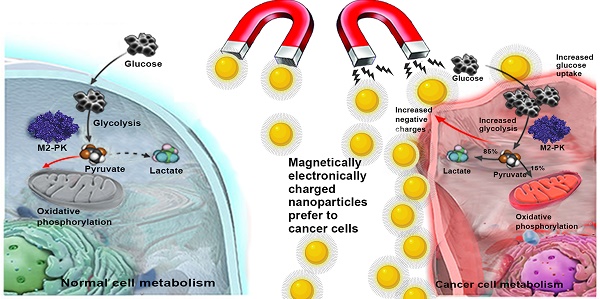 Research Paper
Electrostatic reaction for the detection of circulating tumor cells as a potential diagnostic biomarker for metastasis in solid tumor
Zhiming Li, Xingping Liu, Weidong Zhang, Xuan Zhuang
Nanotheranostics 2020; 4(4): 233-241. doi:10.7150/ntno.46928
[Abstract] [Full text] [PDF] [PubMed] [PMC]
---
Research Paper
Multiplex detection of ctDNA mutations in plasma of colorectal cancer patients by PCR/SERS assay
Nana Lyu, Vinoth Kumar Rajendran, Russell J. Diefenbach, Kellie Charles, Stephen J. Clarke, Alexander Engel, Sydney 1000 Colorectal Cancer Study Investigators*, Helen Rizos, Mark P. Molloy, Yuling Wang
Nanotheranostics 2020; 4(4): 224-232. doi:10.7150/ntno.48905
[Abstract] [Full text] [PDF] [PubMed] [PMC]
---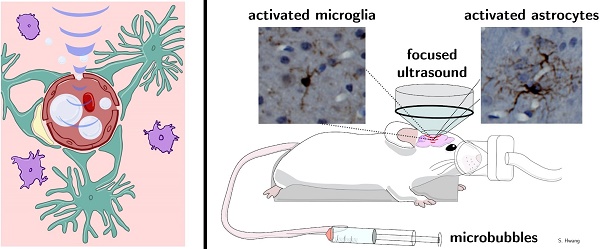 Research Paper
Histologic evaluation of activation of acute inflammatory response in a mouse model following ultrasound-mediated blood-brain barrier using different acoustic pressures and microbubble doses
Aurea Pascal, Ningrui Li, Kendra J. Lechtenberg, Jarrett Rosenberg, Raag D. Airan, Michelle L. James, Donna M. Bouley, Kim Butts Pauly
Nanotheranostics 2020; 4(4): 210-223. doi:10.7150/ntno.49898
[Abstract] [Full text] [PDF] [PubMed] [PMC]
---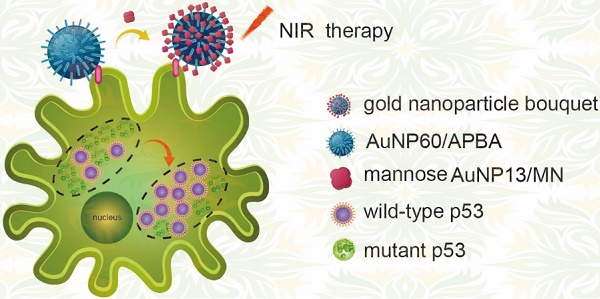 Research Paper
A Gold Nanoparticle Bouquet held on plasma membrane: An ultrasensitive dark-field imaging approach for Cancer Cell Analysis
Yue Cao, Jie Wang, Qiao-Yan Jiang, Li Hu, You-Jia Yu, Yan-Fang Yu, Feng Chen
Nanotheranostics 2020; 4(4): 201-209. doi:10.7150/ntno.41639
[Abstract] [Full text] [PDF] [PubMed] [PMC]
---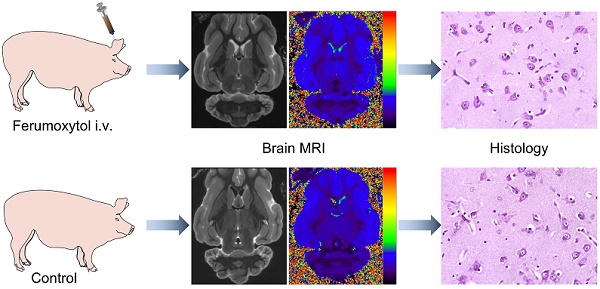 Research Paper
Brain iron deposition after Ferumoxytol-enhanced MRI: A study of Porcine Brains
Ashok Joseph Theruvath, Maryam Aghighi, Michael Iv, Hossein Nejadnik, Jonathan Lavezo, Laura Jean Pisani, Heike Elisabeth Daldrup-Link
Nanotheranostics 2020; 4(4): 195-200. doi:10.7150/ntno.46356
[Abstract] [Full text] [PDF] [PubMed] [PMC]
---

Research Paper
Targeted Molecular Iron Oxide Contrast Agents for Imaging Atherosclerotic Plaque
Rhiannon J. Evans, Begoña Lavin, Alkystis Phinikaridou, Kok Yean Chooi, Zahra Mohri, Eunice Wong, Joseph J. Boyle, Rob Krams, René Botnar, Nicholas J. Long
Nanotheranostics 2020; 4(4): 184-194. doi:10.7150/ntno.44712
[Abstract] [Full text] [PDF] [PubMed] [PMC]
---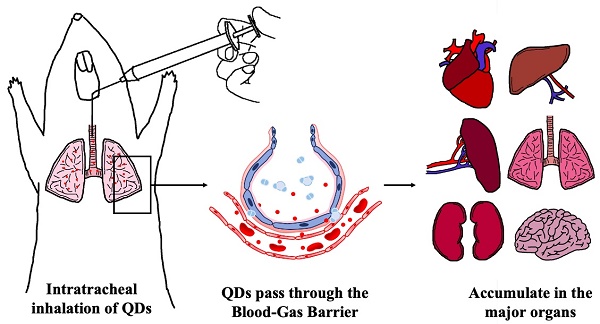 Research Paper
Biodistribution and acute toxicity of cadmium-free quantum dots with different surface functional groups in mice following intratracheal inhalation
Guimiao Lin, Ting Chen, Yongning Pan, Zhiwen Yang, Li Li, Ken-tye Yong, Xiaomei Wang, Jie Wang, Yajing Chen, Wenxiao Jiang, Shuting Weng, Xiaorui Huang, Jiajie Kuang, Gaixia Xu
Nanotheranostics 2020; 4(3): 173-183. doi:10.7150/ntno.42786
[Abstract] [Full text] [PDF] [PubMed] [PMC]
Editor-in-Chief:
Jonathan Lovell, PhD
Associate Professor, Biomedical Engineering
University at Buffalo, State University of New York


Nanotheranostics is now indexed in the Web of Science, Biological Abstracts and BIOSIS Previews.
Nanotheranostics has been selected by The Literature Selection Technical Review Committee (LSTRC) for inclusion in MEDLINE, the prestigious index of U.S. National Library of Medicine.

CFP - Special Issue Dedicated to Dr. Kirchner and Dr. Gambhir
Stem cell transplants are an effective approach to repair large bone defects. However, comprehensive techniques to monitor the fate of transplanted stem cells in vivo are lacking. Such strategies would enable corrective interventions at an early stage and greatly benefit the development of more successful tissue regeneration approaches. In this study, we designed and synthesized a dual-modality imaging probe (Feru-AFC) that can simultaneously localize transplanted stem cells and diagnose immune rejection-induced apoptosis at an early stage in vivo. ...
Endoscopy is the gold standard investigation in the diagnosis of gastrointestinal cancers and the management of early and pre-malignant lesions either by resection or ablation. Recently gold nanoparticles have shown promise in cancer diagnosis and therapeutics (theranostics). The combination of multifunctional gold nanoparticles with near infrared fluorescence endoscopy for accurate mapping of early or pre-malignant lesions can potentially enhance diagnostic efficiency while precisely directing endoscopic near infrared photothermal therapy for established cancers. ...
Squalenoylation of gemcitabine, a front-line therapy for pancreatic cancer, allows for improved cellular-level and system-wide drug delivery. The established methods to conjugate squalene to gemcitabine and to form nanoparticles (NPs) with the squalenoylated gemcitabine (SqGem) conjugate are cumbersome, time-consuming and can be difficult to reliably replicate. Further, the creation of multi-functional SqGem-based NP theranostics would facilitate characterization of in vivo pharmacokinetics and efficacy. More ...
Anticancer nanotherapeutics have shown mixed results in clinical trials, raising the questions of whether imaging should be used to i) identify patients with a higher likelihood of nanoparticle accumulation, ii) assess nanotherapeutic efficacy before traditional measures show response, and iii) guide adjuvant treatments to enhance therapeutic nanoparticle (TNP) delivery. Here we review the use of a clinically approved MRI nanoparticle (ferumoxytol, FMX) to predict TNP delivery and efficacy. It is becoming increasingly apparent that nanoparticles used for imaging, despite clearly distinct physicochemical properties, often co-localize with TNP in tumors. This evidence offers the possibility of using FMX as a generic "companion diagnostic" nanoparticle for multiple TNP formulations, thus potentially allowing many of the complex regulatory and cost challenges of other approaches to be avoided. More ...
Congratulations to Dr. Chen for being elected as AIMBE fellow: https://aimbe.org/college-of-fellows/cof-2103/
Congratulations to Dr. Chen for being recognized as Selected Highly Prolific Authors (most published articles in the past 5 years) for 3 ACS journals (ACS Nano, Bioconjugate Chemistry, and Molecular Pharmaceutics). More details: http://journalstars.acs.org/