Nanotheranostics 2021; 5(2):155-165. doi:10.7150/ntno.56432 This issue
Review
Strategies for the functionalisation of gold nanorods to reduce toxicity and aid clinical translation
Department of Chemistry, Imperial College London, Molecular Sciences Research Hub, White City Campus, London W12 0BZ, United Kingdom.

This is an open access article distributed under the terms of the Creative Commons Attribution License (https://creativecommons.org/licenses/by/4.0/). See http://ivyspring.com/terms for full terms and conditions.
Citation:
Shi X, Perry HL, Wilton-Ely JDET. Strategies for the functionalisation of gold nanorods to reduce toxicity and aid clinical translation.
Nanotheranostics
2021; 5(2):155-165. doi:10.7150/ntno.56432. Available from
https://www.ntno.org/v05p0155.htm
Abstract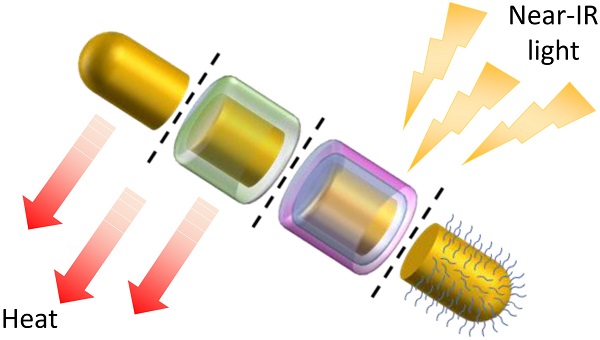 Gold nanorods (GNRs) show great promise as photothermal therapy agents due to their remarkable ability to convert light into heat. In most cases, gold nanorods are synthesised via a seed-mediated method assisted by surfactants. However, the toxicity of these surfactants, principally cetrimonium ions, has prevented GNRs from being used more widely in vivo. To address this issue, various detoxification and functionalisation approaches have been proposed in recent years to replace or cover surfactant coatings on the gold surface. In this short review, the advantages and limitations of each approach are examined in the context of the recent progress made towards the design of GNRs suitable for use in the body.
Keywords: Gold nanorods, functionalisation, cetrimonium bromide (CTAB), photothermal therapy