Nanotheranostics 2017; 1(2):217-231. doi:10.7150/ntno.19158 This issue
Research Paper
Improving Brain Delivery of Biomolecules via BBB Modulation in Mouse and Rat: Detection using MRI, NIRF, and Mass Spectrometry
1. Department of Chemistry, The University of Kansas, Lawrence, KS 66047, USA;
2. Department of Pharmaceutical Chemistry, The University of Kansas, Lawrence, KS 66047, USA;
3. Department of Pharmacology and Therapeutics, University of Manitoba, Winnipeg, Manitoba, Canada;
4. Mass Spectrometry Laboratory, The University of Kansas, Lawrence, KS 66047, USA.
* Both KRU and NO contributed equally to this work.

This is an open access article distributed under the terms of the Creative Commons Attribution (CC BY-NC) license (https://creativecommons.org/licenses/by-nc/4.0/). See http://ivyspring.com/terms for full terms and conditions.
Citation:
Ulapane KR, On N, Kiptoo P, Williams TD, Miller DW, Siahaan TJ. Improving Brain Delivery of Biomolecules via BBB Modulation in Mouse and Rat: Detection using MRI, NIRF, and Mass Spectrometry.
Nanotheranostics
2017; 1(2):217-231. doi:10.7150/ntno.19158. Available from
https://www.ntno.org/v01p0217.htm
Abstract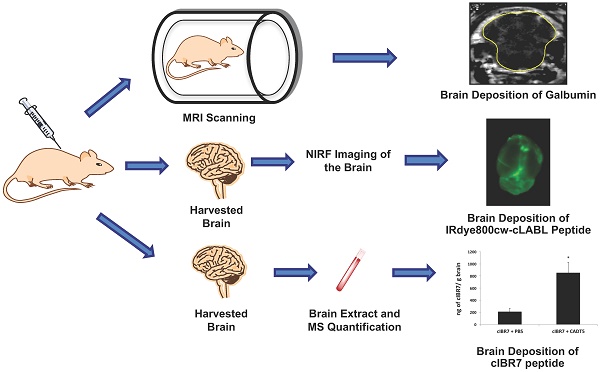 There is an urgent need to develop new and alternative methods to deliver functional biomolecules to the brain for diagnosis and treatment of brain diseases. The goal of this study was to evaluate the activity of blood-brain barrier (BBB) modulators (i.e., HAV and ADT peptides) to deliver functional biomolecules (i.e., galbumin, IRdye800cw-cLABL, and cIBR7) to the brains of mice and rats. HAV6, cHAVc3, and ADTC5 peptides but not HAV4 peptide significantly enhanced the brain delivery of 65 kDa galbumin compared to control in Balb/c mice as quantified by magnetic resonance imaging (MRI). Ten-minute pretreatment with ADTC5 peptide still significantly increased brain delivery of galbumin; however, no enhancement was observed after 10-min pretreatment with HAV6. There was no enhancement of galbumin deposition following 40-min pretreatment with ADTC5 or HAV6, suggesting a short duration of the BBB opening for large molecules. ADTC5 peptide also improved the brain delivery of IRdye800cw-cLABL peptide about 3.5-fold compared to control in Balb/c mice as detected by near infrared fluorescence (NIRF). The BBB modulator activity of ADTC5 to deliver cIBR7 peptide was also evaluated in vivo using Sprague-Dawley rats. The amount of cIBR7 in the brain was detected by LC-MS/MS. ADTC5 peptide enhanced the delivery of cIBR7 peptide into rat brain about 4-fold compared to control and the intact cIBR7 can be efficiently extracted and detected in rat brain. In conclusion, HAV and ADT peptides enhance the brain delivery of functional peptides (e.g., cLABL and cIBR7) and protein (e.g., 65 kDa galbumin) in two animal models, and the duration of the BBB opening for a large molecule (e.g., galbumin) was short.
Keywords: blood-brain barrier, BBB, brain delivery, cadherin peptides, HAV peptide, ADT peptide, paracellular diffusion, tight junction, adherens junction, BBB modulation.